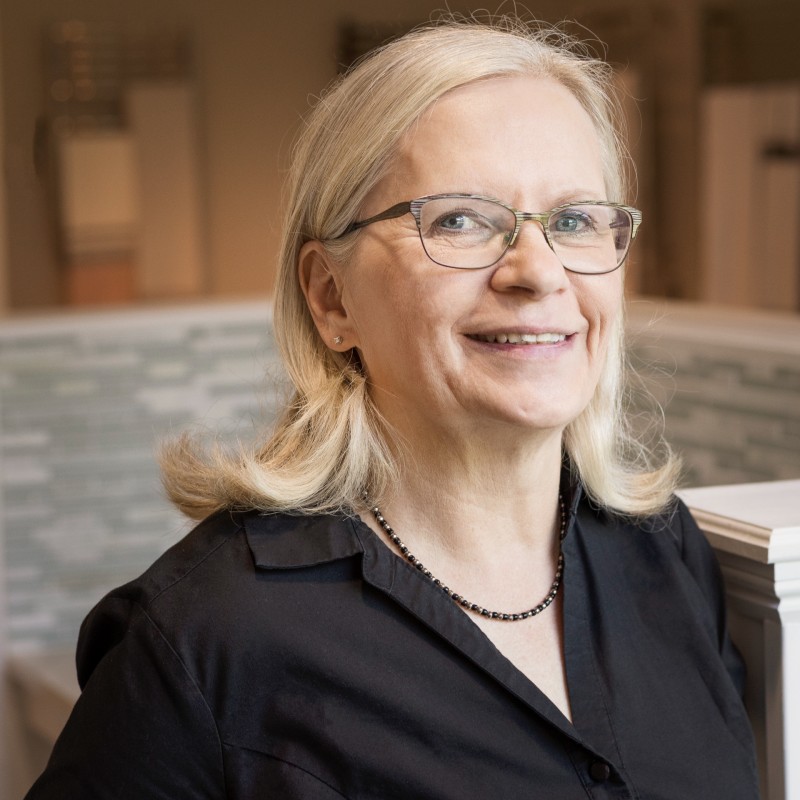 Yarmouth Showroom Administrator
Kathryn has been a member of the Snow and Jones Team since 2021. As the newest member of the Yarmouth Solutions team, Kathryn greets our customers as they enter the showroom, schedule appointments and assist the sales associates with paperwork.
Kathryn's interest in construction began very early with a father who built custom homes:  "My sandbox was filled with sawdust and I played with a string of colorful laminate samples.  I have been a Cape resident for almost 40 years and have lived in both brand new and older homes that have inspired my love of design. I enjoy seeing the enthusiasm of our customers when they see the scope of our displays – and new ideas start to happen."
Yarmouth Showroom Manager
Josie MacKinnon has been a member of the Snow & Jones team since 2006. During her fifteen years at Snow & Jones, Josie has been afforded the opportunity to meet with many different people from all walks of life. Making connections has been the driving force of what Josie loves most about her work. Combining a love of fashion, function, and genuine engagement between people, Josie enjoys talking with clients about their visions and dreams, while integrating a design plan that suits their needs and styles.
Possessing a unique ability to guide clients while keeping their goals aligned with their vision, Josie manages to forge working relationships that benefit both the customer and the company. Her own personal taste runs the gamut from funky, chunky jewelry to vintage clothing and furniture, and she finds fulfillment when she can combine seemingly contrasting elements to formulate designs that work both visually and functionally. 
Norwell Showroom Receptionist
Joann Davis is the receptionist for the Norwell showroom. She has been with the team since 2021. She has been a resident of Norwell for 23 years. By checking in our clients, learning about their projects to arrange their appointments, and working on their project books, Joann is an integral part of the showroom running smoothly.  When not at work she loves spending quality time with her husband, three sons and the family dog, Faith.  
"I've have always enjoyed working and connecting with people.  I have a  back round in coaching and a variety of customer service roles which has allowed me the opportunity to assist others achieve their goals and objectives."
Norwell Showroom Sales Associate
Jonathan Maslow has been a member of the Snow and Jones team since 2016. Prior to Snow and Jones, Maslow spent 25 years in the commercial print arena working with some of the countries top graphic designers and photographers. Jon feels his time in the graphic arts has been a major advantage to helping customer pick out the right finishes and designs to complete their kitchen and bath projects. Color understanding was critical in print, as it is in kitchen and bath. 
"I enjoy working at Snow and Jones because I feel it allows me to draw on my prior design experiences and creativity." He also adds, "Having previously run my own retail storefront was great experience and a big advantage in having the ability to listen to a customers needs and working closely with them to help achieve their goals"
Norwell Showroom Sales Associate 
Linda DeNeill has been a member of the Snow and Jones team since 2016. For many years as a stay at home mom, Linda did many remodeling projects and assisted  family and friends with selecting paint colors, window treatments and furnishings.  "I love working with my customers to find their "design style" and sourcing their inspiration products."  
Prior to Snow and Jones, Linda worked for a sales and marketing company as a business manager for some of the largest consumer products companies in the US.  "At Snow and Jones I just transferred my experience in merchandising and design to the plumbing industry, so far it has been a perfect match."
Norwell Showroom Administrator
Christie Edgren is the Showroom Administrator in Norwell and has been a member of the S+J team since 2019.  Christie changed her career from a catering manager back to a full time office environment which makes her a good fit being calm under pressure, organized and a positive attitude to get the job done.  Christie diligently follows up on client issues and helps to facilitate any warranty issues.   Christie is originally from Pennsylvania and has lived in Hingham Massachusetts for 20 years along with her two children.  When she isn't working she is bartending, catering or at the beach.
Vice President of Retail Sales
Patti has been a member of the Snow and Jones Team since 2012. With a love of design and a customer service back ground, joining the showroom staff seemed like the perfect fit. Fast forward 10 years and Patti has done almost every position within the showroom and currently is the Vice President of Retail Sales for Snow + Jones. She oversees the showroom team and is responsible for all displays, client relations, and management goals of the showrooms.  Patti is an essential part of our social media team and has grown the Snow and Jones Instagram followings with her daily inspirational and technical stories.  
"Our space is constantly evolving with design trends and the latest product offerings. I partner with local designers as well as other staff members to make wall paper, paint, and tile selections that help enhance our product displays. I want our space to be memorable but also want our vignettes to feel like home to our clients." 
Danielle has been with Snow and Jones since 2006 when she joined the showroom team. Danielle's background of management and organization was the perfect complement to assisting clients make their product selections. In the showroom Danielle found a true love of design, creating new display spaces, and developing long term relationships with our trade clients. She moved onto working on the road with builders, designers, and architects and now serves as the President of Snow and Jones. In this role she fulfills many different responsibilities, as in any family run business, and loves working with the showroom team and trade clients.
"I love that Snow and Jones is a family business. We are involved in all aspects of our daily business, and we have so many long term staff members. It truly allows our customers, including both trade and homeowners, to get a more personalized experience in working with us. Working in conjunction with Patti and our showroom staff and clients fulfills my creative drive. Seeing client's happiness with their completed project continues to make me proud daily."